Import and play YouTube vidoes in customized Flash video player

Price: $20.00

Version: 1.0
Compatible With: PlayerDIY Web Player V2.0 and up
Published on:

Jan.22nd, 2010

Developer: PlayerDIY Software
Introduction:
YouTube Video Plugin conveniently imports YouTube videos to your own-brand Flash Web player which customized by PlayerDIY Web Player for playback on webpage with flexible video-recontrol functions.
Key Features:
Add single/multiple YouTube videos to Flash video player for playback on webpage.
Work with PlayerDIY Web Player to implement all the functions it has on YouTube videos during the player customization.
Co-operate with other PlayerDIY plugins to extend the player's capability and get diverse YouTube video recontrols like adding HTML or JS ads and watermarks, etc.
Extract video source directly from YouTube with excellent quality and web server space saving.
Integrate YouTube videos with other flash videos in one playlist for better presentation.

Note: "YouTube" logo with hyperlink to the site will appear on the customized web FLV player due to copyright protection issue.
Limitation of free trial version:
A watermark with hyperlink to PlayerDIY site will appear on the customized web video player.
The demo below shows the customized player with added YouTube videos and an external playlist. Click here to learn more about how to create such an external playlist.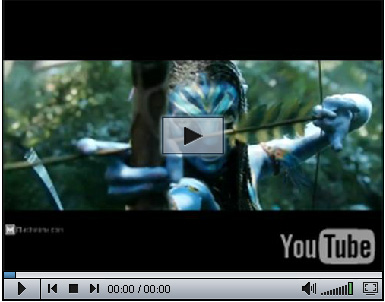 Where this plugin appears:
After installing this plugin, it will appear on the following interface of PlayerDIY Web Player.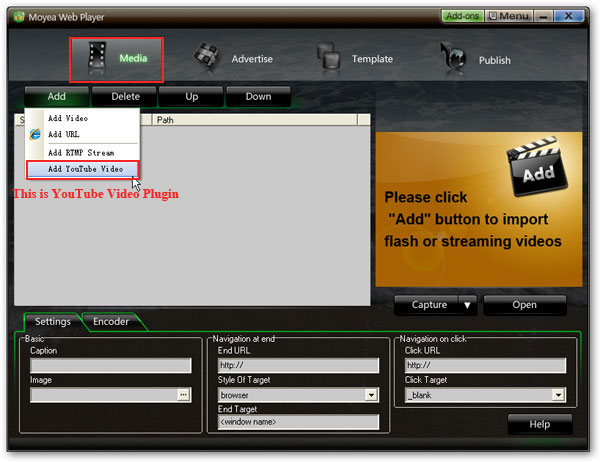 How YouTube Video Plugin Works:
During the flash video player customization with PlayerDIY Web Player, click "Add YouTube Video" to input URL address of YouTube video in the pop-up window. Hit "OK" to submit.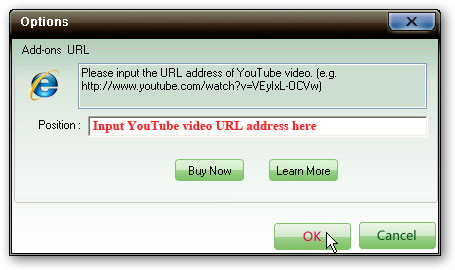 Add Advertisements to the Inserted YouTube Video on "Advertise" Interface:
Click here to learn more about how to add HTML or Javascript ads to YouTube video.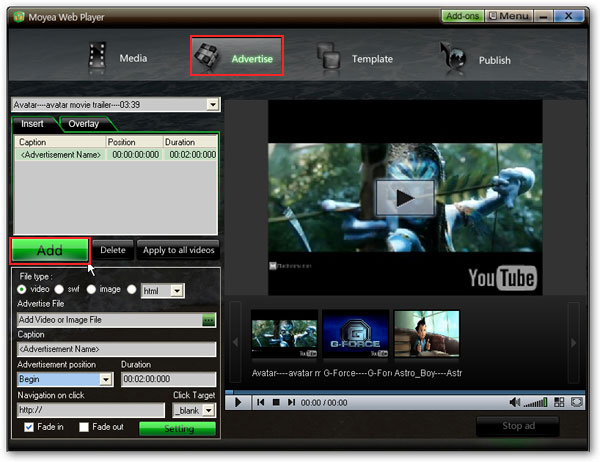 Note: Only the latest PlayerDIY Web Player V2.3.0.3 and up versions support to auto-capture YouTube video thumbnails for playlist( shown above). For early versions, please manually capture it on "Media" interface.
Implement Other YouTube-Video Recontrols and Player-DIY Functions on "Template" Interface:
For example, setting player style, selecting player profile, adding watermark, creating external playlist and so on.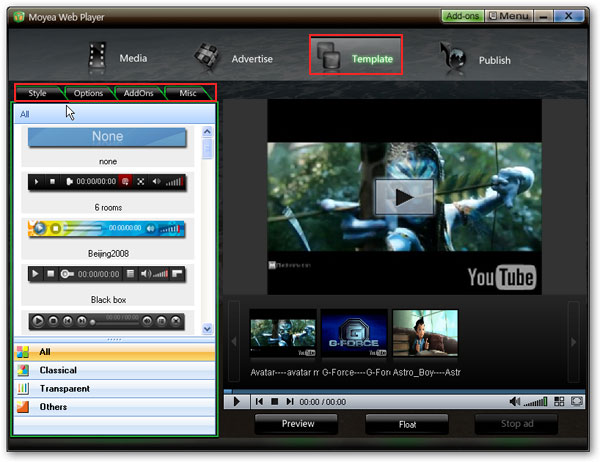 Click "Publish" at last, then you will get a totally customized Flash video player with YouTube video inside for playback on target webpages.