Remove control bar from flash video player
The control bar may be unnecessary, if you want to make a video banner (Example about customizing a video banner on webpage) with some videos, or you are not willing visitors to control your video playing. PlayerDIY web player supports to remove control bar and the whole player as your requests in a snap.
The demo has no control bar
Implementing the above demo in different ways:
PlayerDIY Web Player
Flashvars Code
1. Go to Template -> Options
2. Push down Skin settings, and uncheck Show player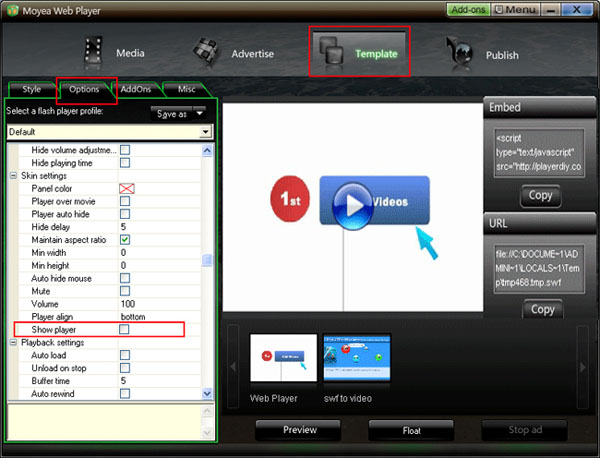 To implement the above demo with code, you just need to insert a line of flashvars code into the embed code of player. After get the flashvars code, the embed code will be as below:
<script type="text/javascript" src="swfobject.js"></script>
<div id="flashcontent" align="center"></div>
<script type="text/javascript">
var so = new SWFObject('mwplayer.swf','player','500','450','9');
so.addParam('wmode','opaque');
so.addParam('quality','high');
so.addParam('allowfullscreen','true');
so.addParam('allowscriptaccess','always');
so.addParam('flashvars','playerOpts=showPlayer*false*b');
so.write("flashcontent");
</script>
The line of the red code is the flashvars code for removing the control bar. Get more information about flashvars code.